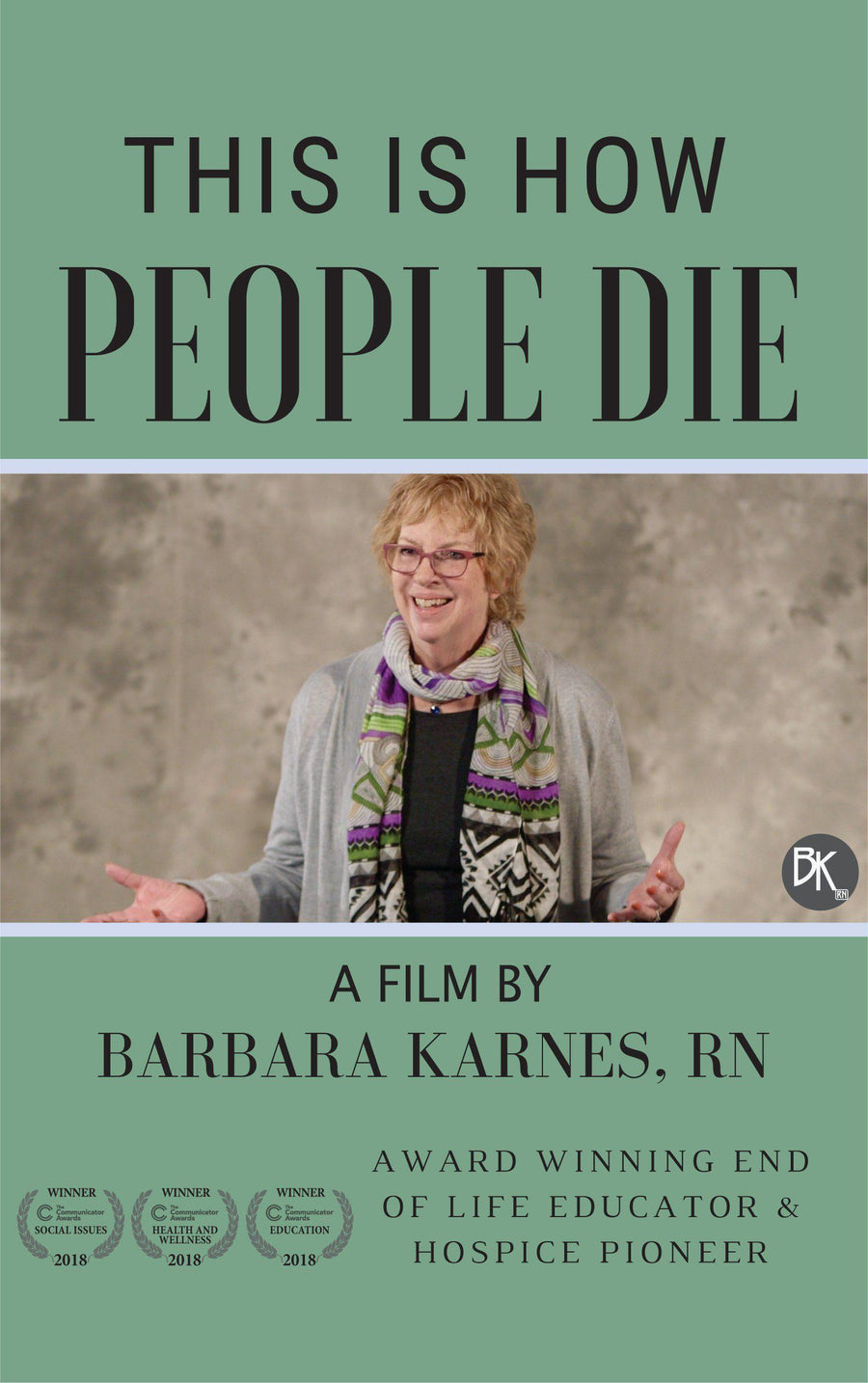 This is How People Die DVD
This is How People Die offers an in depth workshop with Barbara Karnes, RN on the dying process. In this three part, award winning DVD, Barbara addresses the normal dying process from the months before to the moment of death.  

This film is used in continuing education for the following:
Medical Staff Orientation
Hospice Volunteer Training
Stephen Ministries
Parish Nurses
End of Life Doulas
Nursing Faculty Inservice &/or Orientation Nursing Schools      
Check with your local state board of nursing for CEU eligibility.
Close Captioned for the Hearing Impaired
CONTENTS
Part One: 65 minutes - Natural process of dying from disease and old age
Part Two: 50 minutes - Labor of dying
Part Three: 45 minutes - Questions & thoughts  
PDF Outlines
This Is How People Die DVD from Barbara Karnes RN on Vimeo.
By educating your team, you enhance their ability to provide compassionate care and support. Don't miss this opportunity to empower your staff and elevate the quality of end-of-life care. Order now and unlock the transformative power of This is How People Die.
Don't have a DVD player?   
This is How People Die is available to purchase for $265 or rent for $95 digitally on Vimeo.
AWARDS: 
2018 COMMUNICATOR AWARDS DISTINCTION WIINER, Film / Video - Social Issues / Responsibility
2018 COMMUNICATOR AWARDS DISTINCTION WIINER, Film / Video - Health and Wellness
2018 COMMUNICATOR AWARDS DISTINCTION WIINER, Film / Video - Education / Educational Institutions
Frequently bought together: