Look Inside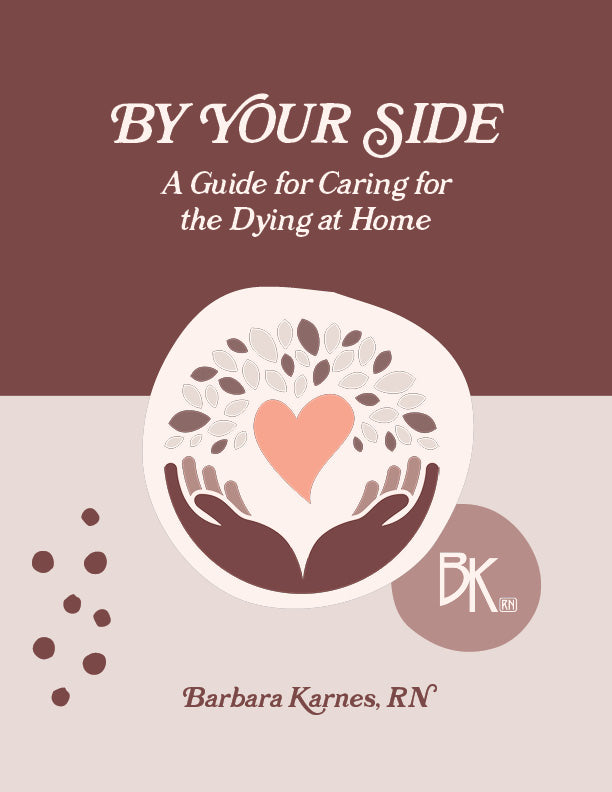 By Your Side, A Guide for Caring for the Dying at Home
Are you caring for a loved one with a life-limiting illness or dealing with the challenges of end-of-life care? Barbara's Guidebook, "By Your Side, A Guide for Caring for the Dying at Home," provides valuable knowledge and guidance to help navigate your caregiving journey. Take the first step now and order your guidebook today.
This 72 page, spiral-bound guidebook addresses:
end of life choices (life sustaining, comfort care)

advance directives
funeral planning
details signs of approaching death (what to look for, what to do)
describes end of life care at home
pain management
care of dementia patients at end of life
And, very importantly, how to take care of yourself as you fulfill your role as caregiver. 🧡
Taking care of someone as the end of their life approaches is not the same as taking care of someone who is going to get better. 
This specific knowledge and guidance won't take away the sadness you carry, but it will give you the confidence to know that you are providing the best care possible. 
The journey of caring for your special person can be challenging and exhausting. My hope is that with this guidebook and the support of others (family, community, and professionals) this experience will be a special time for you that will become a sacred memory. 
Order your guidebook now and make a difference in your caregiving journey.
Frequently bought together: