Audiobook - The Final Act of Living: Reflections of a Long-Time Hospice Nurse
Listen now on your favorite platforms and discover The Final Act of Living - Available on major platforms including Spotify, Audible, Google Play, Barnes & Noble, Audiobooks.com, Kobo, Walmart, and more! Get started on your auditory journey today.
As featured in USA Today. This full-length audiobook with a newly updated preface is where Barbara Karnes shares her insights and experiences gathered over decades of working with people during their final act of living. For both professionals and laypeople, this book weaves personal stories with practical care guidelines, including: living with a life-threatening illness, signs of the dying process, the stages of grief, living wills, and other end of life issues. 
Barbara wrote this book following years of being a hospice nurse at the bedside of hundreds of people in the months to moments before death. From the stories and experiences she shares, you will see that death doesn't just happen, there is an unfolding; there is a process to dying. 
The Final Act of Living is used as:
*A resource on end of life for palliative care nurses
*A training handbook for hospice nurses and volunteers
*A reference book for anyone working with end of life issues:
    Lay ministers, social workers, counselors, nurses, chaplains
*An easy read for anyone interested in dying and grief
*A text book in college and university classes,
    CNA training, social work and LPN/RN classes
Listen today as Barbara shares her transformative journey. Whether you're a professional in the field or simply interested in end-of-life issues, this book is for you.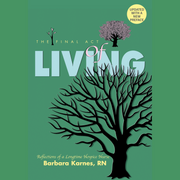 Audiobook - The Final Act of Living: Reflections of a Long-Time Hospice Nurse
Customer Reviews
11/19/2023
Elizabeth S.

United Kingdom
Sanity saver
I can't wait to read this.!!!! I have read and listened to every written work by and spoken interview of Barbara Karnes I could get my hands on. Stumbling upon her wisdom in the murky midst of my husband's slow but steady death from a progressive neurodegenerative disease was like detecting a calm voice of reason break through a cacophony of unintelligible shouting. Sanity and reason and compassion and acceptance. Barbara Karnes helped me to give my husband the best death possible. What more can we ask?
Oh Elizabeth, thank you for sharing. It pleases me that my work has helped you during a challenging, sad time. Blessings to you. Barbara